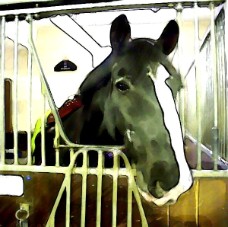 Hello, my name is Freddie Windsor. I am a 22 year old Shire horse, 17.1hh black with three white legs and one black one (a sign of luck!) and a long white blaze down my nose.
I have been a police horse since 1995.
I have worked in many places across London from Richmond Park to Greenwich and from Wembley to Camberwell.
I have done many jobs from Changing the Guard at Buckingham Palace, numerous demonstrations, concerts and school visits.
I have had the same Police Officer assigned to me for six years and she is responsible for looking after me and making sure I look my best, don't work too hard and behave myself.
I have had the most incredible career and have written some books about my life and all the fun I have had with the help of my rider.
I hope you enjoy them.
Lots of love
Freddie xxx